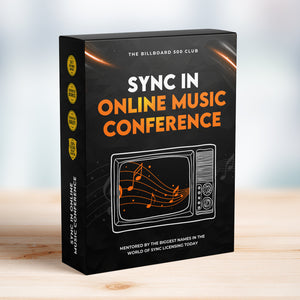 Welcome to the World of Sync
Who Should Attend?

This 5-day video recorded event is for someone who wants to learn everything they need to know about sync in the fastest amount of time possible. In just one week you will transform your entire life and music career. 
Over 23 hours of knowledge will be shared with you by the biggest names in the sync world. 
You don't need a manager, record label, publishing deal, booking agent, or even social media in order to make over $100,000 a year.
If your biggest dream has been to have your music synced and licensed in a movie or TV Show then this conference is for you. 
Imagine what life would be like finally making a full-time living from your music. 
You won't have to deal with the headache and stress of going on tour away from your loved ones during a global pandemic. 
You won't have to worry about already having a fan base or posting on social media because contrary to popular belief, these things aren't a requirement to land placements. 
After experiencing this conference you won't have any other questions about sync licensing and you will feel confident in pursuing it. 
You'll understand how you can leverage your success in sync to set you up for your future goal of landing either a publishing, record, or admin deal.
Meet Your Mentors
Easy McCoy - Hip Hop Artist
Credits - Under Armour, ESPN, UFC, Billions
Session: Crafting a Hip Hop Anthem
Sync Placement by Easy McCoy "Energy" for Under Armour

Spencer Ludwig - Grammy Award Winner and Owner of Trumpet Records
Credits - Target, Tommy Hilfiger, Apple, Olympics
Session: How to Work Directly With Major Brands
Sync Placement by Spencer Ludwig "Brand New" for Tommy Hilfiger

Charles Barsamian - Entertainment Lawyer
Credits - WhipLash, Fury, El Chapo, The Grey
Session: Contracts and Negotiations 

Sam Heights Garay - Producer/Writer 600 Placements in TV/Film
Credits - NBC Universal, Spinnin/Warner Music, E!, Blumhouse, The CW
Session: Producing and Mixing for Sync From Home 

Suzan Koc - Platinum Songwriting Coach and Former VP of Writer Development at BMG Publishing
Session: Writing Sync Songs with Substance 

Adam McInnis - Producer, Songwriter, and Artist
Credits - Hobbs & Shaw, BMW, NBA2K, Ubisoft
Session 1: Creating an Empire Through Sync
Session 2: How to Make $100,000 With No Social Media
Sync Placement Produced by Adam McInnis - Baby Knoxx "In The Jungle" for the Video Game Company Ubisoft - Watch Dogs: Legions Trailer
Mark Chipello - VP, Head of A&R at Position Music
Credits - Welshly Arms, Judah & The Lion, and Michael Franti
Session: Replay Demo Critiques
Sync Placement by Mark Chipello - Welshly Arms "Legendary" for the Movie 6 Underground

Andy Ross - Award Winning Music Supervisor
Credits - Whiplash, Don Jon, Dungeons & Dragons
Session: Replay - Pitching Session 
Includes a 48-Hour Challenge 
The conference includes a 48-Hour Challenge. You will be given a real brief with a time frame of 48 hours to complete a brand new song. This mimics what actually happens on a daily basis for those who work in sync. 
Q&A Sessions
Bonus Replay: Q&A with Adam McInnis from April 23rd
Bonus Replay: Q&A with Adam McInnis from August 13th
Testimonials
This is a go-at-your-own-pace video replay event so you can watch each session based on your own schedule.
We recommend you watch two sessions per day so you finish it within one week.
Once you signup you get lifetime access to every session replay.
All sales are final as we stand behind the conference and do not offer any refunds.