OUR GROWING NETWORK OF MENTORS
Grammy Award Winner
ASCAP Award Winner
Damon is a Grammy Award Winner for Chicago: Music From the Miramax Motion Picture's Best Soundtrack and ASCAP Award Winner for Jenifer Lopez's smash hit "Love Don't Cost a Thing".
He is a songwriter, artist, and most recently focused on pursuing a producer/DJ career signed to Armada Music. His credits also include Ariana Grande, Pitbull, Alesso, Kylie Monogue, Kelly Roland, Flo Rida, Monica, Charlie Wilson, NKOTM, Nelly, Ginuwine, Amerie, 98 Degrees, Kimberly Locke, Got7, 2PM, 2F9, BoA, SHINee, Kangta, Laboum, B1A4, and Faires.
---
Autumn is a Grammy Award Winner for Jon Baptiste's Album of the Year We Are.
She is a producer, songwriter, and artist who's also worked with so many artists throughout the years including Diana Ross, Fka Twigs, Dua Lipa, Ava Max, Leona Lewis, Grace VanderWaal, Pitbull, Avicci, Alex Newell, Little Mix, Kali Uchis, Lindsey Stirling, Tkay Maizda, Becky G, Macy Gray, Boy George, Bea Miller, Sinead Harnett, Tori Kelly, Alexis Jordan and others. She was a vocal coach on The X Factor USA for Fifth Harmony in 2012 as well as America's Got Talent for 5 seasons.
---
Guild of Music Supervisors Award Winner
Andy is a Guild of Music Supervisors Award Winner for Best Music Supervision Film Under 5 Million Dollars for Whiplash.
He is responsible for music in over 100 commercials including Audi, Volkswagen, NFL and PlayStation, 150 feature films, 75 soundtrack albums and more than 120 theatrical releases including a three-time Oscar winning film, a Golden Globe-winning TV show, and box office global hits totaling $1+ billion in revenue. He's had over 25 years of diversified experience in the music industry including stints as an artist manager, label chief, and publisher.
---
Gabi Kochlani is an A&R executive, talent manager, music publisher and entrepreneur. Former Senior Director of A&R at Universal Music Group's 10:22PM imprint, Kochlani's eye for talent and ear for innovation is derived from her 20 years in the music business. Kochlani's A&R work has included signing/developing multi-platinum songwriters such as Mikal Blue and Ben Burgess; pitched and secured multi-platinum song placements with artists Troye Sivan and Tori Kelly, among others; A&R for top Dance/Electronic artist Alesso, and A&R for the 2021-2022 Blade Runner: Black Lotus Original Soundtrack with Alessia Cara, lann Dior, Salem Ilese, G-Eazy, and others.
In 2022, Gabi set out on her own to seek and support talent through her own company The Gray Administration.
---
Platinum Selling Producer & Artist
Spencer is a platnium selling producer among his vast discography consisting of the K-pop group Girls' Generation self-titled album which sold more than 2.5 Million copies worldwide. His placements and collaborations include working with artists such as The Game, Lee Foss, The Lady Tigra, Mike D of the Beastie Boys, DJ Blaqstarr, Nova Rockafellar, Ryan Tedder, Pussycat Dolls, Sueco The Child, Fever 333, and Papa Roach.
Signed to Knotting Hill Music Publishing, he is also a masterful saxophonist, DJ, beatboxer, songwriter and artist. He scores motion picture projects for film producers Bert Marcus and Adrian Grenier (Entourage) including the documentaries How to Make Money Selling Drugs, Teenage Paparazzo, and Burn Motherfucker, Burn!
---
Adam is a Korean Music Awards Winner (amoung others) for Aespa's Best K-pop Song and Song of Year "Next Level".
Signed to Concord Music Publishing, he is most known for his work with world-renowned DJ Fedde Le Grande and over 100 placements in the sync licensing world as one of the only people doing so in every major music genre. Adam is an artist, songwriter, and producer. He is also in the band Sons of Legion. His voice has been heard on networks such as Vh1, MTV, HBO, ESPN, FOX, ABC, CMT, E!, NCAA, and by hundreds of thousands of music fans at world renowned EDM festivals such as EDC, Tomorrowland, and Ultra.
Adam is also a partner in the sync agency Kimura and the conscious music production company Nosara Media.
---
Latin Grammy Award Winner
Multi-Platnium Selling Trumpet Player
Spencer is a Latin Grammy Award Winner . for Fonseca's "Por Pura Curiosidad" Best Traditional Pop Vocal Album. He rose to prominence as the original trumpeter in the multi-platinum band Capital Cities.
Recently, he has carved out an incredibly successful career as a solo artist and frequent collaborator performing with the likes of Harry Styles, Dua Lipa, Fitz and the Tantrums, and more. Spencer also owns the sync agency Trumpet Records which has seen placements in major brands Target, Royal Caribbean, Apple TV+, American Express, YouTube, T-Mobile, Tim Hortons, Kettle One and Instacart.
---
Vice President of Position Music
As Vince President of Position Music, Mark garners both record and publishing deals for their talent as well as oversees and guides the A&R staff.
He continues to sign, develop, and manage talented artists including Welshly Arms who's landed 16 sync licensing placements, Tyrone Wells, Judah & The Lion, Kid Bloom, Téo and Layto amongst many others.
Before wearing his A&R hat, Mark spent eight years on the road as a drummer and a tour manager traveling throughout the United States honing in on his craft.
---
Director of A&R at Position Music
As Director of A&R for Position Music, David signs artists, songwriter, producers, and trailer music composers while cultivating relationships across all aspects of the entertainment business.
David was also a longtime manager of artists, record producers, songwriters, and composers.
He's worked with managers Michael Lippman (Matchbox 20, Bernie Taupin) and Warren Entner (Rage Against The Machine, Deftones) before he started his own called Solid Music Company (Matt Mahaffey, The Dan Band, sElf).
---
Platinum Songwriting Coach
As VP of Writer Development at BMG Music Publishing, Suzan worked with songwriters Busbee, David Gamson, Jean Baptiste, and Alex Geringas who all who benefited from her detailed and articulate feedback on their songs.
Throughout the years, she has set many co-writes that led to songs such as "Stronger" and "Dark Side" both recorded by Kelly Clarkson, "Dance The Pain Away" by Benny Benassi featuring John Legend, and successfully pitched songs "Try" for Pink, "Almost Doesn't Count" for Brandy, Mark Wills in Nashville, "I'm Not Your Girl" for Reba, as well as "Hostage" (È l'amore che conta) recorded by Italian artist Giorgia.
---
Shelly is best known for penning anthems such as Christina Aguilera's No. 1 smash, "What a Girl Wants" and Meredith Brooks' GRAMMY-nominated, "Bitch."
Shelly has written for Jessie J, Keith Urban, Britney Spears, Brandy, SmashMouth, Natasha Bedingfield, Reba, Celine Dion, Miley Cyrus, INXS, Backstreet Boys, Michelle Branch, DiVinyls, Pretenders, Selena Gomez and Demi Lovato. Her songs have appeared in numerous films and TV shows such as The Blind Side, The Hot Chick, Princess Diaries, Center Stage, What A Girl Wants, What Women Want, The Lizzie McGuire Movie, Raising Helen, A Walk To Remember, The Bourne Identity, Orange Is The New Black, Glee, Orphan Black, Smash, 30 Rock, and Grey's Anatomy.
---
VP of Global Partnerships & Sync at EMPIRE
Mario is the VP of Global Partnerships & Sync at EMPIRE which supported the debut albums and early singles of a number of Trinidad James, Rich Homie Quan, Migos, Rocko, and K Camp.
In Los Angeles, they have distributed and/or are still distributing artists such as Kendrick Lamar, Schoolboy Q, Problem, Snoop Dogg, and Crooked I. They've also been involved in New York with releases from Fat Joe, Styles P, Cam'ron, and Busta Rhymes.
On the R&B side, they have signed artists such as Eric Bellinger, Jacquees, Jesse Boykins III, Jonn Hart, and Lyrica Anderson.
---
Multi Award Winning Producer & Songwriter
Marchetti's songwriting credits include Jojo's hit single "Disaster" (Interscope) and Hollywood Records artist Demi Lovato's Billboard Top 10 Platinum hit single "Neon Lights", after which Lovato named her successful world tour.
Internationally, Marchetti's hit song credits include co-writes and production with Sony Australia artists Jess Mauboy "Pop A Bottle", Samantha Jade "Up!", 5x award winning K-pop song for Aespa "Next Level", Guy Sebastian "Come Home To Me", as well as K-Pop artist Super Junior's hit single "Tuxedo" and Universal Canada artist Shawn Hook's "Million Ways".
---
Easy McCoy, the Seattle-born rapper, is quickly becoming one of the more prolific emcees on the west coast today.
With his massive catalog of songs and sync licensing placments, many sports fans have likely heard his confident flows on the likes of ESPN, HBO, UFC, MTV, VH1, and in the biggest arenas and stadiums in North America.
Most recently, his songs have been featured in the TV show "Billions" and well as commercials for Polaris, PS5, and PELOTON.
---
Garret is called a financial genius in entrepreneurial circles who has dedicated his life to educating and serve hard-working, honest business owners.
He is the Founder and Chief Wealth Architect of Wealth Factory which helps people with first generation businesses and entrepreneurs who understand hard work — but who haven't been given the proper financial tools to build lasting wealth. He is also a lifelong entrepreneur and keynote speaker.
He is also a New York Times best-selling author of Killing Sacred Cows: Overcoming the Financial Myths That Are Destroying Your Prosperity.
---
Multiplatinum Producer & Mixer
Greg has multiple #1 hits with artist such as Justin Bieber, Rihanna, and Bruno Mars.
While specializing in production, writing, and mixing, he cut his teeth working with Britney Spears, Sean Kingston, Leona Lewis, The Game, Rick Ross, and Natasha Beddingfield to name a few.
---
Top Sync Mixing Engineer & Producer
Sam has over a decade of experience producing, writing and recording music for TV/Film and sync licensing placements.
He has produced for media companies such as Lionsgate, Blumhouse, NBC Universal, MTV, E! Networks and more.

He also has had writing placements with various labels such as Source/Spinnin' Records, Trap Nation and Sony Germany.
---
Songwriter & Musical Director
Scotty has famously been linked to having received his talents and voice, specifically, via his Great Aunt being, "Queen of Gospel Music" Mahalia Jackson.
He studied at Berklee College of Music in Boston, Massachusetts before moving to Los Angeles and now settling in Costa Rica. Scotty began touring with Jordin Sparks as her creative director and also wrote the the theme song for the TV Show Wonder Years.
---
Entreprenuer & Financial Advisor
Jeffrey Serra is a financial advisor operating in Austin, Texas, with a total of 22 years of professional experience.
Serra works at Vida Capital Management which manages $235 million in total assets across its four accounts. This places it among the mid-sized firms in the United States by assets under management. The company offers portfolio management for pooled investment vehicles.
---
Mint-Platinum Songwriter & Artist
Lauren is a multi-platinum artist and songwriter and has written hits for countless artists, including K-pop sensation BTS "I'm Fine", Girls Generation "Bad Girl", Jo Kwon the Avicii produced "Animal", Astrid S "Paper Thin", Wiktoria "Save Me", Anastacia "Caught in the Middle", top 10 Billboard chart topper by Skylar Stecker "Blame", Red Velvet, Taeyeon, Cascada, Liam Ferrari "Hurt" and many more.
---
Over 1 Billion Streams - Hip Hop Artist
Yung Youth is a Red Bull Select artist signed to Concord Music Publishing.
He has performed with Juicy J, Travis Scott, Tory Lanez, and The Cool Kids among others.
He has sync licensing placements with video game companies Apex Legends and Fortnite as well as TV Networks ABC, BBC, DISNEY, HBO, MTV, UFC, NBA, VH1 and NBC Sports.
---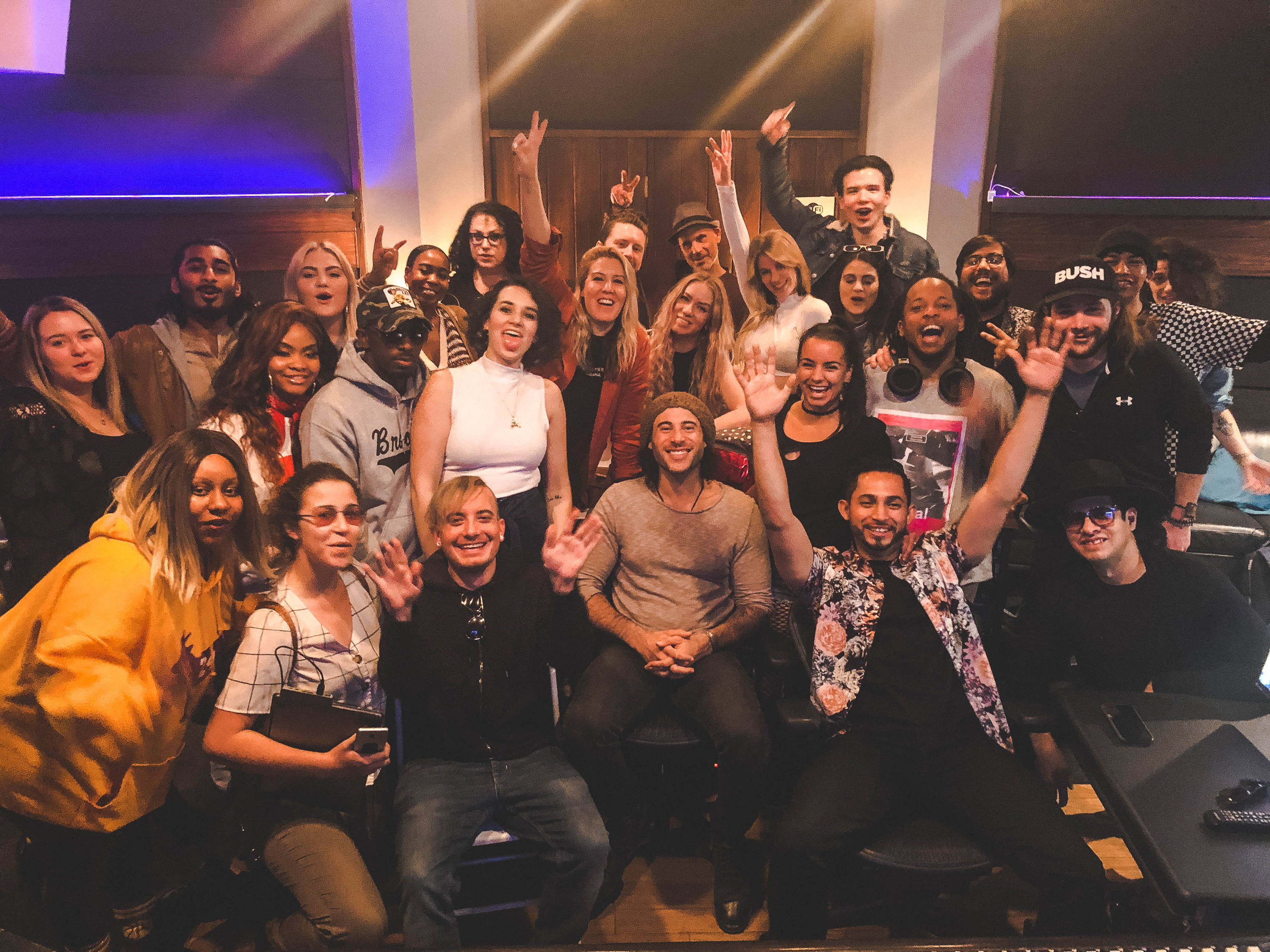 The Billboard 500 Club is an online music community where musicians are plugged into our network of Grammy & Award Winning Songwriters, Producers, A&R, Sync Agents, and Platinum selling artists.
You'll learn our mentors secrets for making music that moves people.
Learn from the best so you become the best.