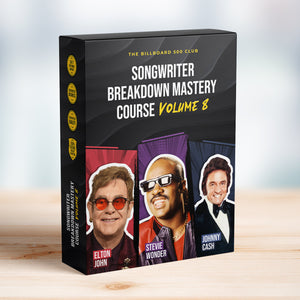 Elton John, Stevie Wonder, Johnny Cash are undeniably songwriters from the 21st century worth studying. In this course, you will dive deeply into their songs to learn from these master songwriters. 
Your mentor, Adam McInnis, dissects and examines some of their best hit songs for you to uncover what makes them each unique.
You will understand what songwriting elements they tend to use in their songs to reveal their "signature writing" recipe so you can integrate it into your own music while you are in a songwriting session. 
You'll create a working blueprint of each songwriter so you can reference back to it whenever you feel like you are stuck or having writer's block. 
Finally, you'll wrap up the course by using what you've learned to create a new song modeled after the songwriters. 
About Adam McInnis
Recently Adam has been dominating the sync world with placements as a songwriter, producer, and artist in blockbuster movies such as Hobbs & Shaw, Beyond the Lights, & Unfriended "Dark Web". As well as penning the songs "Wonder Years" w/ Fedde Le Grande and "Rainbow", in the movie LEAP! which has gained over 70 million views. As an artist and producer, he's placed tracks on Vh1, MTV, HBO, ESPN, Fox, ABC, CMT, E!, NCAA, UFC, Nintendo, Winterfresh, BMW, Netflix, Golf Channel, and Xbox, to name a few. 
His ability to blend styles of soul, rock, country, pop, and blues has led to co-writes and cuts with hitmaking songwriters Kara DioGuardi, Cutfather, Chantal Krezuviak, Helen Darling, J-Rock, Mario Marchetti, Jimmy Robbins, Autumn Rowe, Greg Curtis, Adam Zelkind, and more. Most recently, Adam co-produced and co-wrote the 5x award-winning hit song "Next Level" with Mario Marchetti which was interpolated by the Kpop group Aespa.
Why you should study Elton John
Elton is a singer, pianist, and composer who has led a commercially successful career as a solo artist who has released 31 albums since 1969. He has a total of 35 Grammy nominations and has taken home five wins. He's won Grammy's for Best Male Pop Vocal Performance for "Candle In The Wind", Best Male Pop Vocal Performance For "Can You Feel The Love Tonight", Best Instrumental Composition for Basque, and Best Pop Performance By A Duo Or Group With Vocal "That's What Friends Are For". He's also won a Grammy for Best Musical Show Album and a Tony Award for Best Original Score for Aida, a Golden Globe Award for Best Original Song, and an Academy Award for Best Original Song for "(I'm Gonna) Love Me Again".
He has also received five Brit Awards, including Best British Male and Outstanding Contribution to Music. He was awarded the Society of Singers Lifetime Achievement Award and received the first Brits Icon award in recognition of his "lasting impact" on UK culture. 
Not only was he inducted into the Rock and Roll Hall of fame, but his singles "Your Song", and "Bennie and the Jets" are also in The Rock and Roll Hall of Fame's 500 Songs that Shaped Rock and Roll. In 2019 Billboard's "Greatest Artists of All Time" ranked John as the top solo artist in US chart history third overall behind The Beatles and The Rolling Stones.
Commonly nicknamed Rocket Man referring to his hit single, John is well known for his philanthropic efforts, being involved in charity fundraising events since 1986. After losing two friends to HIV/AIDS in the span of a year, he founded the Elton John AIDS Foundation, an organization that has raised over $600 million to support HIV-related programs in 55 countries. John and his husband David Furnish founded the Elton John Charitable Trust in 2007, which has supported over 100 charities. In 2014, John launched the Elton John Sports Fund to help citizens with training and competition costs for over 50 sports.
Why you should study Stevie Wonder
Stevie Wonder is an American singer-songwriter pioneer across a range of genres that include rhythm and blues, pop, soul, gospel, funk, and jazz. As a virtual one-man band, Wonder's use of synthesizers and other electronic musical instruments during the 1970s reshaped the conventions of R&B. Blind since shortly after his birth, Wonder was a child prodigy who signed with Motown's Tamla label at the age of 11, where he was given the professional name Little Stevie Wonder. Wonder is one of the best-selling music artists of all time with sales of over 100 million records worldwide.
Stevie Wonder has received a staggering 74 nominations taking home 25 Grammy wins making him one of the top winners of all time. In 1973 Wonder took home his first five Grammy Awards for Innervisions, which won Album Of The Year, along with additional Grammy's for "You Are The Sunshine Of My Life" (Best Pop Vocal Performance, Male) and "Superstition" (Best R&B Vocal Performance, Male and Best Rhythm & Blues Song). He has also won an Academy Award for Best Original Song for the 1984 film The Woman in Red.
Wonder is inducted into the Rhythm and Blues Music Hall of Fame, Rock and Roll Hall of Fame, and Songwriters Hall of Fame. He is also noted for his work as an activist for political causes including his 1980 campaign to make Martin Luther King Jr.'s birthday a federal holiday in the U.S. In 2009, he was named a United Nations Messenger of Peace, and in 2014, he was honored with the Presidential Medal of Freedom.
Why you should study Johnny Cash
Johnny Cash was a singer-songwriter genre-spanning musician who embraced country, rock and roll, rockabilly, blues, folk, and gospel sounds. This crossover appeal earned him the rare honor of being inducted into the Country Music, Rock and Roll, and Gospel Music Halls of Fame. Cash is also one of the best-selling music artists of all time having sold more than 90 million records worldwide. 
Cash has received 35 nominations taking home 13 Grammy wins. Johnny Cash scored back-to-back hits with "Folsom Prison Blues" and "I Walk The Line," the former climbing to No. 5 on the country singles chart and the latter breaking into the Top 20 on the Billboard Hot 100. He scored his first No. 1 album with 1969's Johnny Cash At San Quentin. His music career was dramatized in the 2005 biopic Walk the Line, in which Cash was portrayed by Joaquin Phoenix.
He was known for his deep, calm bass-baritone voice, the distinctive sound of his Tennessee Three backing band characterized by train-like chugging guitar rhythms, a rebelliousness coupled with an increasingly somber and humble demeanor, free prison concerts, and a trademark all-black stage wardrobe which earned him the nickname "The Man in Black".
Additional details
All sales are final as we stand behind our products and do not offer any refunds.