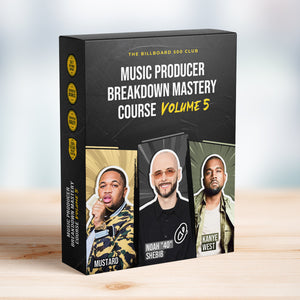 Mustard, Noah "40" Shebib, Kanye West are undeniably hit producers from the 21st century. In this course, you will dive in deep to study and learn from these master music producers. 
Your mentor, Adam McInnis, dissects and examines some of their best hit songs for you to uncover what makes them each unique.
You will understand what elements they tend to use in their songs to reveal their "signature sound" recipe so you can integrate it into your own productions for you to use in the studio. 
You'll create a working blueprint of each producer so you can reference back to it whenever you feel like you are stuck or having writer's block. 
Finally, you'll wrap up the course by using what you've learned to create a new song modeled after the producers. 
Although this is a live course, if you can't attend the sessions, you'll get access to the replays. This course will run sometime in early 2023 so this is current a pre-sale.
About Adam McInnis
Recently Adam has been dominating the sync world with placements as a songwriter, producer, and artist in blockbuster movies such as Hobbs & Shaw, Beyond the Lights, & Unfriended "Dark Web". As well as penning the songs "Wonder Years" w/ Fedde Le Grande and "Rainbow", in the movie LEAP! which has gained over 70 million views. As an artist and producer, he's placed tracks on Vh1, MTV, HBO, ESPN, Fox, ABC, CMT, E!, NCAA, UFC, Nintendo, Winterfresh, BMW, Netflix, Golf Channel, and Xbox, to name a few. 
His ability to blend styles of soul, rock, country, pop, and blues has led to co-writes and cuts with hitmaking songwriters Kara DioGuardi, Cutfather, Chantal Krezuviak, Helen Darling, J-Rock, Mario Marchetti, Jimmy Robbins, Autumn Rowe, Greg Curtis, Adam Zelkind, and more. Most recently, Adam co-produced and co-wrote the 5x award-winning hit song "Next Level" with Mario Marchetti which was interpolated by the Kpop group Aespa.
Why you should study Mustard
Mustard is a record producer and beatmaker He is a frequent collaborator of YG and Ty Dolla Sign; among various other records for the hip hop and R&B genres since his entrance into mainstream music with Tyga's 2011 single, "Rack City". Mustard has produced singles by YG such as "Bitches Ain't Shit" featuring rappers Tyga and Nipsey Hussle, and "You Broke".
Why you should study Noah "40" Shebib
Noah "40" Shebib is a producer, songwriter, and record executive. He has produced for artists including Lil Wayne, Alicia Keys, Beyoncé, Action Bronson, and Jamie Foxx, however, he is best known for his musical collaborations with Drake having produced all of his albums. Shebib's style of production, which is often downtempo and ambient, unsurprisingly has become heavily associated with Drake's music. Both 40 and Drake are two of the three co-founders of the OVO Sound label. Shebib has won two Grammy Awards out of 18 nominations.
Why you should study Kanye West
Kanye West, also known as Ye, is an American rapper, songwriter, record producer, and fashion designer who is widely regarded as one of the greatest and most influential hip hop musicians of all time, as well as one of the greatest musicians of his generation. One of the world's best-selling music artists, with over 160 million records sold, West has won 24 Grammy Awards among 75 nominations falling into the joint tenth-most of all time, and the joint-most Grammy awards of any rapper along with Jay-Z.
Among his other awards are the Billboard Artist Achievement Award, a joint-record three Brit Awards for Best International Male Solo Artist and the Michael Jackson Video Vanguard Award. Six of West's albums were included on Rolling Stone's 2020 500 Greatest Albums of All Time list with the same publication naming him one of the 100 Greatest Songwriters of All Time. He holds the joint record with Bob Dylan for most albums (4) topping the annual Pazz & Jop critic poll, and has the 5th most appearances on the Billboard Hot 100 with 133 entries. Time magazine named him one of the 100 most influential people in the world in both 2005 and 2015.
Additional details
All sales are final as we stand behind our products and do not offer any refunds.