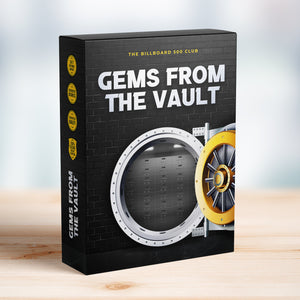 Gems From the Vault is a collection of hand-selected lessons from a variety of other digital products and courses in our store. It's the ultimate inside peek with what we have to offer. 
It's valuable knowledge you must know in order to up-level your music career in all aspects as an artist, singer, songwriter, and producer. 
Over the course of 14 days, you'll get access to a new lesson each day to avoid overwhelm and keep you focused on one thing at a time.
It's literally some of the BEST training, videos, resources, tips, and advice you need to know as a musician.
There are also homework assignments for you to complete and submit to keep you accountable where we see musicians needing it most. 
Gems From the Vault was created specifically after seeing a pattern over and over again of the same common problems musicians face in their music careers.  
It also touches on many of the common issues we hear musicians struggle with all the time when talking to them one on one.
A lot of times, you aren't even aware of what might be preventing you from being accepted into a private mentorship like The Billboard 500 Club or being offered a major deal. These gems will help you discover what you've been missing so you can continue to progress toward your dreams of making a full-time living from your music. 
Topics covered include time management, money mindset, code of ethics, goal setting, creating your legacy and mission, habit formation, knowing your numbers, and the value of becoming a hundred percenter. 
You'll understand if and when it's time for you to get a manager, booking agent, or sign a record deal. 
You'll learn about the biggest opportunities for making money with your music and how to get paid while building your fan base of super fans. 
Gems From the Vault will also help you if you are feeling stuck and unsure what exactly you need to learn next. 
Additional details
All sales are final as we stand behind our products and do not offer any refunds.