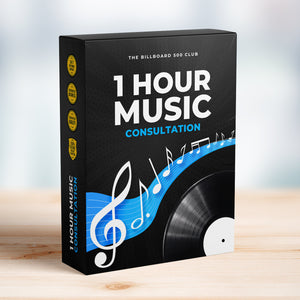 During your consultation, I will design a unique plan for you to have success in the music industry based on your goals.
It doesn't matter where you are currently in your career as I can guide you if you are a beginner trying to understand the best ways to move forward in crafting a hit song or if you are advanced as a signed touring act trying to cut down on your expenses.
I have decades of experience and advice having worked in a wide variety of areas of the music industry. 

Here are some of the areas I can speak on:
✓ Managed the ins and outs of multiple successful music studios in Austin, Texas; Nashville, Tennessee; and Costa Rica if you are looking for insights on starting one yourself
✓ How to build both a home studio and travel studio you can use on the go immediately when inspiration and creativity strikes
✓ How to make a full-time living in the music industry without having to tour or focus on playlist growth
✓ How to find qualified music collaborators who you can trust to deliver high-quality records in a timely manner
✓ How to organize and systematize your workflow for maximum efficiency while producing music to save you hundreds of hours and money in the studio 
✓ How to quickly build a music bed with catchy melodies and pinpoint sounds that catch your fan's attention
✓ How to manage your music business and money so you invest wisely into what's necessary for your growth
✓ How to transition from a music college graduate into a real music career as an artist, songwriter, and producer
✓ Mastered the art of hit songwriting and hit production creating a unique formula that is repeatable and works in every major mainstream music genre
✓ Mastered sync licensing with over 150 placements on major commercials, tv shows, movies, trailers, and video games
✓ Mastered how to analyze your demos still in your DAW to find the holes and give feedback to take your songs from good to great
✓ Mastered the craft of comping vocals for singers to help them discover the unique elements in their voice so they can stand out from the crowd
✓ Mastered the best vocal chain signal flow so your vocals sound professional and radio-ready 
✓ Mastered how to market yourself, build a brand, and gain a following on social media without having to spend hundreds of thousands of dollars
✓ Mastered how to negotiate higher advances from publishing and record labels so you get the best deal possible 
✓ Deeply understand when and if you should hire a support team (booking agent, manager, lawyer, PR) and how to build, and more importantly, maintain those relationships long-term
✓ Deeply understand when and if you should go on tour, what it takes to have a successful one, and how to creatively market yourself to sell tickets
✓ Mastered how to land brand partnerships and sponsorship deals so you have additional diversified streams of income
✓ and so much more... just ask during your session what you need help with. 
Refund Policy
All sales are final as we stand behind our products and do not offer any refunds.