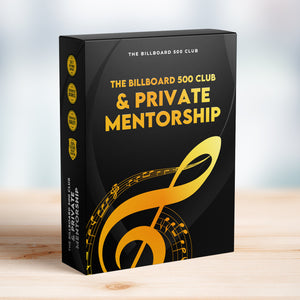 STEP 1 - APPLY TO THE CLUB
⏸ You must apply to the Billboard 500 Club and be approved before purchasing this Private Mentorship subscription package so if you haven't done that yet, please click here.
ABOUT THE BILLBOARD 500 CLUB

The Billboard 500 Club puts you in direct contact with top producers, songwriters, managers, A&R, mixers, lawyers, marketing and branding experts. Don't waste $100,000 on a college degree that doesn't guarantee you a job in the music business. Instead, invest that money into joining our club where you'll be mentored from the industry's best. 

Stop wasting your precious time and life thinking college or "figuring it out on your own" is the only way to go. 

The truth is that college is really expensive which can put you and your family into debt, also learning on your own can take 10 years of long hard work.

The truth is that 99% of music professors at college aren't currently making a full time living as a producer, singer, or songwriter. 

The truth is that you don't need a degree to be a HIT MAKER! Nobody in the music industry cares if you have a degree in music or not. The industry and fans only care about great music with high-quality products.

What you actually need is real guidance and mentorship from people who currently work in the music industry and are actually making a full-time living from it.

We are only accepting 500 members in the club which is held inside a private Facebook group. Once we hit that cap, the doors will be closed forever.
A LOOK INSIDE THE CLUB


WHAT YOU GET WITH THE BILLBOARD 500 CLUB

In the private club, you will gain instant access to over 150 talented up and coming artists, producers, engineers, mixers, musicians, and executives (just like you) from all over the world!

You will be encouraged and be able to collaborate with other club members. If we think certain members would be a great fit to work together, we will help connect you to one another.

You will be encouraged to share your music and ideas with the club so you can get valuable, actionable, and honest feedback.

As you see others in the club making progress and improvements with their music and career, it will push and motivate you to become the best in the music industry right alongside them. These people will become your close life long friends and peers as you grow over the years. Your network will become one of the biggest assets for you to leverage over the competition who are trying to figure out the industry all on their own or with people who don't actually "get" it.

A monthly challenge will be announced for you and anyone else in the club who wants to participate and complete. This will provide you with clarity and focus on a major important goal you need to master in order for you to advance as a professional. 

As we get to know your capabilities, talent level, skills, knowledge, and experience, you will be given a level rating so you know exactly where you fall amongst your peers. This level system will also help you know what is the next milestone you should be striving to hit next to move up the rankings in the club and in your career. 

Artists who reach level 3 and above will be submitted for major projects on
• Tv
• Film
• Commercials
• Trailers
• Video Games
• Publishing Companies
• Record Labels
• Festivals

During our live video teaching sessions, you will learn directly from experts in a variety of fields such as:

• Top Vocal Coaches

• Stage Performance

• Hit Songwriters

• Entertainment Lawyers

• Record Label A&R

• Social Media & Marketing Experts

• Mixing & Mastering Pros

• Tv/Film Music Supervisors

• Studio Owners

• Mindset Coaches

You will also have the ability to submit your music to be considered to win our CASH contests ($500 - $1,500) which will give you the opportunity to make money from your music while collaborating with others in the group.

CLUB INVESTMENT DETAILS

All three options for the Billboard 500 Club are a reoccurring monthly subscription which means you will be charged once a month, every month, to retain access into the club. It's up to you to book your session every month as any missed session will not rollover to the next month.

Please keep in mind that the club is an investment into your future and we are only looking for musicians who are serious about wanting to make a full time living in the music industry. 
Unfortunately, due to the 3rd party software we are using to manage the subscriptions for The Billboard 500 Club, PayPal is not an available payment option. PayPal will however work for all the other products in our shop which is why you will still see it on the checkout page.

WHO THE CLUB ISN'T A GOOD FIT FOR

The club isn't a good fit for you if you are:

• Broke or fixated on spending $100,000 on a college degree which will put you into debt the minute you graduate

• Unwilling to put in the hard work and time that's required to master the skills and business knowledge

• Unmotivated, lazy, and always full of excuses for why it can't or won't work for you

• Only doing music as a hobby. This club is for serious artists only who already know this is the career path for them

• Uncoachable and closed off to ideas, advice, and input from top industry mentors. Constructive criticism will always be shared in the club

• Unable to take action to make progress towards your music goals. This is not a place for you to just watch and observe others succeed around you

• Closed off, cold, selfish, greedy, rude or has bad business practices. Unfortunately, there are a lot of horrible people who work in the music industry. None of that is welcomed in this club
WHAT YOU ALSO GET WITH THE PRIVATE MENTORSHIP

In addition to everything mentioned above, you will also get 2 additional mentor sessions every month. Each private group mentorship session is 2 hours long with your mentor Adam via Zoom.  
A normal "one-hour" consultation with Adam is $899.97 so you are getting a huge deal with this package.
The first session is currently held from 11 am - 1 pm ET on the 2nd Saturday of every month.

The second session is currently held from 8 - 10 pm ET on the 4th Saturday of every month.
(Reminder: You also get access to the monthly consultation session mentioned about which is held from 1 - 3 pm ET on the 3rd Saturday of every month.)
Replays are provided if you can't attend live or have to miss a scheduled session.
The structure for this package is designed to mimic what a traditional college like Berklee's 60K a year tuition fee provides only way more cost-effective and higher quality.
During your private group mentorship sessions with him, he will

• Go deep into a new topic every two months with you so you can fully master each. The focused topics will be songwriting (2 months), production (2 months), branding (2 months), entertainment/performance (2 months), networking (2 months), and business mastery (2 months) to complete the year.

• Answer all of your burning questions

• Advise you on any aspect of your career you currently need help with

• Provide you with tips on how to overcome the challenges and struggles you are currently facing

• Give you critical in-depth business advice

• Give you a monthly action plan with homework assignments and exercises geared towards you turning your biggest weaknesses into your biggest strengths so you can become undeniable in this competitive marketplace

• Guide you during your recording process so you can create high-quality music with a cost-effective lower budget

• Stop you from wasting time and money on gear, plugins, and equipment which don't sound professional

• Share with you the secrets of songwriting and music production so you can improve your workflow by going from a music idea to recording, mixing, and mastering a song within 8-10 hours instead of taking weeks or months to complete

• Help to teach you how to become a master at negotiations so you never sign a bad deal and know what to look out for

• Direct you on how to bring about and uncover the best creative, artistic, and unique sides of yourself so you stand out from the competition

• Keep you actually accountable for your goals and dreams so you can achieve them faster and more efficiently

WHO SHOULD CHOOSE THE PRIVATE MENTORSHIP OPTION

The Billboard 500 Club Private Mentorship option is the best option for you if you want private, personal help from Adam on a one on one basis with a monthly action plan for you to follow with assignments and homework. This is the highest level package option available to join the club.

This is the premium option for you if you know you want to get pushed farther and achieve your results faster, are fully committed and dedicated to your craft, and only want to focus your time, money and energy on the right tools, resources, and path to reach your next milestone.

If you live outside the United States, your scheduled calls will be done through WhatsApp.
OTHER BILLBOARD 500 CLUB OPTIONS TO CONSIDER

The Billboard 500 Club Membership

The Billboard 500 Club & Monthly Consultation 
All sales are final as we stand behind our products and do not offer any refunds.
➤You must apply to the Billboard 500 Club and be approved before purchasing this Private Mentorship subscription package so if you haven't done that yet, please click here.